Presentation. Saturday 9 June
20:00 h – Poster and events schedule presentation after the service in Nuestra Señora de la Asunción church.
Proclamation. Thursday 13 June
20:00 h – Proclamation of la Romería del Cap 2019 by Mrs Rosario Rodes Alonso.
Milagros Román Maciá, singersongwriter performance.
Serenade. Saturday 22 June
20:00 h – Welcoming the audience by the Virgin of Rosary chapel.
20:30 h – Serenade to Virgin of Rosary begins. The Virgin of Rosary will come from the chapel to the stage with the first song by the choir Los Romeros.
Flower offering to the Virgin, organized by Hermandad de la Virgen del Rosario.
Los Romeros choir
El Castell rondalla and choir
Sal Marinera dancing group
Los Caminantes choir
After the Serenade, there will be a brotherhood dinner where each one will bring their food. During the dinner there will be traditional songs.
Pilgrimage. Sunday 23 June
6:30 h – Meeting in Nuestra Señora de la Asunción church to collect the pilgrim stick canes.
6:45 h – In the church the choir Los Romeros will sing to Virgin of Rosary the traditional pilgrimage jotas.
7:00 h – Strong firecrackers will announce the start of the pilgrimage from the church going to the chapel. Most of the route is along the seaside and it is a unique experience to enjoy of the first sunlights of the day having as background the view of Tabarca island. Midway, in The Chain, there will be a logistic stop where fresh fruit and water will be provided.
10:00 h – Service with Holy Communion by the chapel. Choir Los Romeros will be singing in the service.
After the service and until 18 h, chairs and tables can be borrowed in the shed to enjoy a beach day. Please bring your traditional lunch.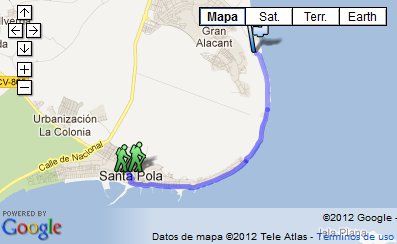 There will be a FREE BUS for people with restricted mobility to go to the chapel. It will leave 08:00 h departing from Avenida Fernando Pérez Ojeda and coming back 13:30 h.